Okay, guitar players, artists, craftspeople alike - you're going to love this free giveaway: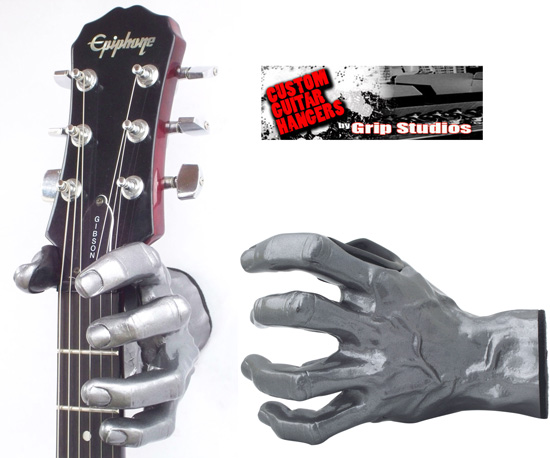 How awesome are these guys? What are they, you say? Well, check it out: they are handcrafted guitar holders in the shape of hands from
Grip Studios
, perfect for taking care of your favorite acoustic, electric or bass guitar. You want to make sure your baby is always in good hands, don't you?
The style we are giving away is featured above and is a GS-1 Metal Mayhem guitar grip valued at $39.99. Mounting hardware is included. Built from durable resins, they are easy to mount and they come with TAH 3 protective inserts to make sure your instrument is always comfortable.
So, how can you get yourself one of these for free?
If you haven't already signed up for our mailing list, you may enter to win at our
Giveaways page
. Just enter a valid e-mail address for your chance to win, and enjoy our monthly newsletter about music news as an extra bonus (wink wink). Please do not re-enter if you are already on the mailing list, and duplicate entries will be eliminated from consideration. But hey, tell your friends and maybe they'll share, who knows.
If you're interested in how these puppies are made (remember they are hands made by hand), check out a behind-the-scenes video here:
Get a grip and good luck!